PULSONICA is a musical project which combines traditional Afro Latin rhythms with different Progressive Rock styles, always starting from a protagonist percussive work based on the use of polyrhythms, irregular metrics, unisons and percussion solos.
In this search, a great variety of instruments are used. There are two percussion sets, the first one is a drum set with timbales and the other one is composed by congas and accessories. There are also melodic percussive instruments like xylophone and glockenspiel, electric and acoustic guitars, bass guitar, aerophone instruments and programmed sounds.
Members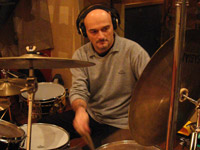 Drum set with timbales, xylophone & general direction

Drummer & percussionist, Jorge Adrián González was born in Buenos Aires, Argentine Republic. Member of projects like PULSONICA, ORQUESTA AMARILLA PERCUSSION ENSEMBLE and NERON, also worked with artists like CELESTE CARBALLO, MORIS, BA MAMOUR (Senegal), etc. Read more
Composed music for different entertainments like movies and music hall and is a regular writer in some percussion newsletters. Is author of a drum method called "DESDE LA BASE", in which he makes a deep study of the possibilities that the instrument gives, using the three main elements (bass drum, snare drum and hi-hat).
Has released many album recordings and important live performances like the BAP (Buenos Aires Percussion) festivals, MARDELJAZZ, LA PLATA JAZZ INTERNATIONAL FESTIVAL, MAR DEL PLATA INTERNATIONAL PERCUSSION FESTIVAL, QUILMES ROCK, the first P.A.S. (Percussion Art Society) festival in the Argentine Republic, the WGT INTERNATIONAL FESTIVAL at Leipzig-Germany and the PERCUBA INTERNATIONAL PERCUSSION FESTIVAL, at La Habana-Cuba. These performances allowed him to know recognized musicians as José Luis "Changuito" Quintana, Tata Guines and Dave Weckl.
In 2006 he creates PULSONICA project, looking for the fusion of the traditional Afro Latin rhythms with different progressive rock styles.


TRAYECTORY:
1988. Drummer of ALAKRAN rock group.
1989. Drummer of SAGA rock group.
1991. Drummer and percussionist of PRESTO, with the guitar player Martín Etcheverry (Elmer) and the bass player Javier Tumini (Nativo).
1993. Works with the singer CLAUDIO LEDDA (La Groovísima, Los Susanos) making live performances and TV shows.
1994. Works with the singer ARY TASSANO.
1994. Joins the ORQUESTA AMARILLA percussion ensemble.
1996. Drummer of NERON. We can mention live performances at Cemento, Ferrocarril Oeste Stadium and Expomusic.
1997. Recording of the "En Vivo" album with the ORQUESTA AMARILLA percussion ensemble.
1997. Recording of the "¿Evolución?" album with NERON.
1998. Works with the percussionist BA MAMOUR from Senegal during his workshops and concerts through the Argentine Republic.
2000. Recording of "Ora Natural" with the KAMARUKO percussion ensemble, as invited musician.
2001. Is called to work as percussionist with DE LA GUARDA group.
2002. Recording of "Pasajero del Tiempo" with the ORQUESTA AMARILLA percussion ensemble.
2002. Recording of the "Inmóvil" album with NERON.
2002. Plays as invited musician during the live performances of the reggae/ska group AZTECAS TUPRO.
2003. Recording of "Me volví loco" with the group SHAMANES.
2003. Works with the singer MORIS.
2004. Recording of "Celesteacusticados" with CELESTE CARBALLO.
2005. Recording of "Tamborea Suite" album with the ORQUESTA AMARILLA percussion ensemble.
2005. Recording of "Orilla" with PAMPA YAKUZA group.
2006. Recording of "Nostalgias del Orígen" with PUNTO OMEGA group.
2006. European tour with PUNTO OMEGA.
2006. Starts working in Pulsonica's project.
2007. European tour with PUNTO OMEGA.
2007. Recording of "Movimiento Perpetuo" with PULSONICA.
2008. Recording of "Más que Nunca" with SPERANTHAS.
2008. Recording of "Sueños en el Umbral" with L'HERMITE
2010. Recording of "Solo Ser" with FABIAN TEJADA & KAMARUKO.
2010. Recording of "Tribaloide" with PULSONICA.
2011. Recording of the DVD Video "From the Sudio" with PULSONICA.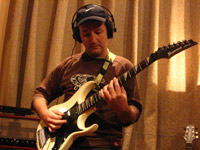 Electric, acoustic guitars & programming
Marcelo Alejandro Tubio was born on December 8, 1968, at Santos Lugares, state of Buenos Aires, Argentina. His first guitar lessons were in 1983 with Tomas Pomilio, until 1986. Read more
Studied at the "National Institute of Music Carlos López Buchardo" (1989/1998).
In 1990 assists to a Master Class called "Bach for guitar" given by "Miguel Angel Girollet".

From 1991 to 1992, studied at the I.T.M.C. (Musical Institute of Contemporary Music). Studies electric guitar with Anel Paz (Heavy Tango, Violadores) from 1989 to 1992.
From 1993 to 1995 he works as session musician.

In 2001, plays at the recording sessions of the "Inmóvil" album with Nerón rock band.
Since 2006 he joins Pulsónica project.
Marcelo is actually working as teacher in official and private education.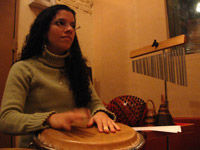 Congas set & accessories
Carolina Cohen studied piano with the teacher Delia Geddes and guitar with Fernando Fiszbein. Studied percussion with Rubén Sánchez Retta, Ariel Perez, Huber Reyes, Juanjo Martínez and drums with José Luis Colzani. She also made the career of "Composition and Musical Arrangements" at the Manuel de Falla Superior Institute. Read more
Her debut as percussionist was at sixteen years old during the concert "Con aroma de Violeta", a tribute to Violeta Parra, organized by the Chilean embassy and the Center of Chilean Residents at the Argentine Republic.
Played in a percussion duetto with Rubén Sánchez Retta at the Expo Music 2001, sponsored by the Drummers Club.
In 2002 she worked at the entertainment "Cosa de Mujeres", as member of the Sánchez Retta Percussion Trio with Sabrina Figueroa at the Astor Piazzolla Auditorium. This concert was also presented at the San Martín Cultural Complex, at the Jazzología Cycle, accompanied by important musicians as Manuel Fraga (piano), Néstor Astarita (drums) and Mariano Tito (electric bass), and at Buenos Aires Percussion, sharing stage with the percussionist Facundo Guevara.
Was invited to perform at the play "Hercules", of Haendel, as tympanist in 2002, directed by Sergio Siminovich. Since then she became the official tympanist of the Haendel Society Orchestra, playing: Oratorio de Navidad, Cantatas I and VI from Johan Sebastian Bach and Luigi Cherubini's Requiem, to name a few.
She toured in summer of 2003 through Mar del Plata as member of the Havana Project Group with the Cuban musicians César Gaviria, Axel Milanés and Luis Lugo.
Recorded for the 7 TV channel from Argentine, for the 2004 Christmas and New Year  with recognized musicians of the argentine folkloric music.
She played at the 45º Cosquín National Festival, 2005 edition, working with the Julieta Sosa group, playing argentine folkloric music fusioned with Afro Latin rhythms.
In september 2005 worked with María Martha Serra Lima during the "María Martha Intensa" shows at the Coliseo Podestá theater.
In 2006 played at the presentation of the sound track of the film "Martín Fierro, el ave solitaria" at the ND Ateneo theater.
From 2006 to 2008 was member of the afroperuvian group "Negros de Miércoles".     
Since 2007 she plays percussion with the Enrique Llopis group, performing at different stages through the Argentine Republic.
In August 2008 was invited to play at the Integrational Operistic Workshop of the Colon Theater Superior Artistic Institute as tympanist.
Worked with the peruvian singer Eva Ayllón during her tours through the Argentine Republic and at the Centro Cultural Rimac, Lima, Perú in 2010.
Since 2010 she plays at the salsa orchestra "La Fórmula Original" and the traditional cuban music group "Rafael de la Torre & Son al Son"
Was invited to play at records like: Mario Álvarez Quiroga "Entre el monte y la ciudad" (2006); Luciano Cañete "Tierra y mentira" (2007); Pablo Lozano "Pan del agua" (2007); etc. Also played at the live DVD "Eva canta a Chabuca" (2009).
Since 2002 is member of the latinamerican music group De Tal Palo, recording two studio albums ("Música Latinoamericana" -2005- & "La luna está roja" -2008-).
In 2006 she joins Pulsónica project.
Technicians and guest musicians
I want to give special thanks to the guest musicians: Julián Cusmano, Fabián Tejada, Pablo Iglesias, Ariel Viale, Sergio Gutiérrez & Patricio Resico. Also to the technicians César Clementino, Axel Sierra Bas and Leandro Patronelli, who caught the images of all this work with true passion. Jorge González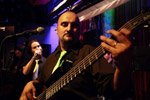 Julián Cusmano
Electric Bass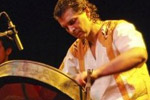 Fabián Tejada
Steel drum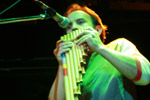 Pablo Iglesias
Aerophone Instruments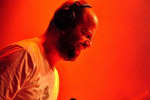 Ariel Viale
Hand Timbale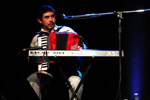 Sergio Gutiérrez
Keyboards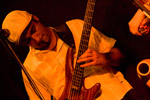 Patricio Resico
Electric Bass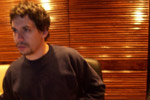 César Clementino
Sound Engineer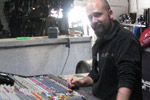 Axel Sierra Bas
Sound Engineer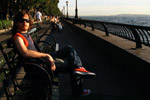 Leandro Patronelli
Audiovisual Producer
Latests photos
Join our contacts list