Jorge González: Drumset & Percussion
Marcelo Tubio: Electric & Acoustic Guitars
Tomás Sivadón: Congas & Accessories
Jonathan Crevatín: Electric bass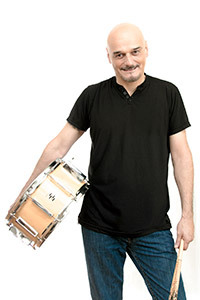 Jorge González
Drummer & percussionist, member of projects like PULSONICA and ORQUESTA AMARILLA Percussion Ensemble, also worked with artists like CELESTE CARBALLO, MORIS, BA MAMOUR (Senegal), etc.
Jorge Adrián González was born in Buenos Aires, Argentine Republic.
Is author of two drum methods "Desde la Base" and "Herramientas Útiles para Improvisar", both of them published by Ellisound Editions.
He is graduated from the National School of Arts, has studied at Vinci Musical Institute and has taken private lessons with professors Rolando Picardi, Daniel Mele and Osvaldo Brandán among others.
Composed music for different entertainments like movies and music hall and is a regular writer in some percussion newsletters.
Has released many album recordings and important live performances like the BAP (Buenos Aires Percussion) festivals, MARDELJAZZ, LA PLATA JAZZ International Festival, MAR DEL PLATA International Percussion Festival, QUILMES ROCK, TOQUE International Percussion Festival, the WGT Festival at Leipzig-Germany and the PERCUBA International Percussion Festival, at La Habana-Cuba.
In 2007 he creates PULSONICA project, looking for the fusion of the traditional Afro Latin rhythms with Rock, Funk and Jazz styles.
HISTORY
1988. Drummer of ALAKRAN rock band.
1989. Drummer of SAGA rock band.
1991. Drummer of PRESTO fusion band, with the guitar player Martín Etcheverry (Seis Cuerdas).
1993. Works with CLAUDIO LEDDA (La Groovísima, Los Susanos) making live performances and TV shows.
1994. Works with pop singer ARY TASSANO.
1994. Joins the ORQUESTA AMARILLA percussion ensemble.
1996. Drummer of NERON. We can mention live performances at Cemento, Ferrocarril Oeste Stadium and Expomusic.
1997. Recording of "En Vivo" album with the ORQUESTA AMARILLA percussion ensemble.
1997. Recording of "¿Evolución?" album with NERON.
1998. Works with the percussionist BA MAMOUR from Senegal during his workshops and concerts through the Argentine Republic.
2000. Recording of "Ora Natural" with KAMARUKO percussion ensemble, as guest musician.
2001. Is called to work as percussionist with DE LA GUARDA group.
2002. Recording of "Pasajero del Tiempo" with the ORQUESTA AMARILLA percussion ensemble.
2002. Recording of "Inmóvil" album with NERON.
2002. Plays as invited musician during the live performances of the reggae/ska band AZTECAS TUPRO.
2003. Recording of "Me volví loco" with the latin band SHAMANES.
2003. Works with rock singer MORIS.
2004. Recording of "Celesteacusticados" with CELESTE CARBALLO.
2005. Recording of "Tamborea Suite" album with the ORQUESTA AMARILLA percussion ensemble.
2005. Recording of "Orilla" for PAMPA YAKUZA band.
2006. Recording of "Nostalgias del Orígen" with PUNTO OMEGA.
2006. European tour with PUNTO OMEGA.
2007. European tour with PUNTO OMEGA.
2007. Recording of "Movimiento Perpetuo" with PULSONICA.
2008. Recording of "Más que Nunca" with SPERANTHAS.
2008. Recording of "Sueños en el Umbral" for Carlos Ferrari & L'HERMITE.
2010. Recording of "Solo Ser" with FABIAN TEJADA & KAMARUKO.
2010. Recording of "Tribaloide" with PULSONICA.
2011. Recording of the DVD Video "From the Sudio" with PULSONICA.
2012. Recording of the album "La Casa Invita" for CHAMUYO QUARTET.
2012. Ellisound Editions publishes his drum method "Desde la Base".
2013. Recording of "La Quinta Marca" album for DELIRIOS SONICOS band.
2015. Recording of the album "Fuera de Tiempo" with PULSONICA.
2016. He gives workshops at different cities in Argentine Republic, Buenos Aires, Mar del Plata, Bariloche, Neuquén, Santa Fe and Paraná.
2018. Ellisound Editions publishes his drum method with DVD Video "Herramientas Útiles para Improvisar".
2019. Recording of "Entre Mundos" album with PULSONICA.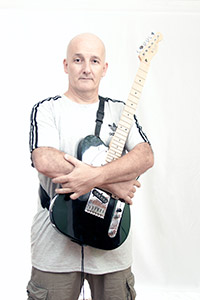 Marcelo Tubio
Marcelo Alejandro Tubio was born on December 8, 1968, at Santos Lugares, Buenos Aires State, Argentina.
His first guitar lessons were in 1983 with Tomas Pomilio, until 1986.
Studied at the "National Institute of Music Carlos López Buchardo" (1989/1998).
From 1991 to 1992, studied at the I.T.M.C. (Musical Institute of Contemporary Music). Studied electric guitar with Anel Paz (Heavy Tango, Violadores) from 1989 to 1992.
From 1993 to 1995 he worked as session musician.
In 2001, plays at the recording sessions of the "Inmóvil" album with NERON rock band.
He is the author and performer of the music for "A Marriage Proposal " by Chekhov (2015), "Venice" by Jorge Accame (2016) and "Somnium" by Johannes Kepler (2017).
Since 2007 he joins PULSONICA project.
Marcelo is actually working as teacher in official and private education.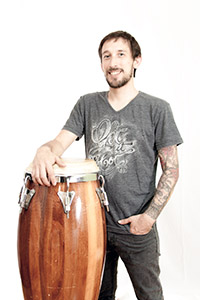 Tomás Sivadón
Argentine percussionist and trumpeter.
2002 - 2004: Studies Afro-Latin percussion with Professor Facundo Jiménez.
2004 - 2011: Studies Afro-Latin percussion and perceptual audio with Professor Gastón Jalef.
2007 - 2009: Studies trumpet and music theory with Professor Fernando Padilla.
2009 – 2013: Studies trumpet: styles and technique at SADEM with Master Miguel Angel Tallaritta.
2014-2015: Participates in the Afro-Peruvian and Afro-Cuban Percussion workshops by Professor Carolina Cohen.
History
2006. Percussion workshop teacher (children and adolescents) at the Danza-Manía Institute.
2006 – 2009. Member of the Musical Orchestra "Los Soneros del Patio Rojo" (Traditional Cuban Music)
2006 – 2012. Member for Pentacocktail.
2008-2012. Director and Trumpeter of the "La Tremenda Baires" Musical Orchestra (Cuban Music)
2008 – 2011. Band Ensemble teacher at Godspell College, Pilar (Buenos Aires State).
2008 – 2011. Musical director of the Play (Drama Club) of Godspell College.
2009 – 2011. Member (percussionist and trumpet player) of the group for events Quinto Continente, from "Divine Productions".
2009 – 2010. Trumpeter of the orchestra of the Cuban singer-songwriter Rafael De La Torre.
2011. 2nd Trumpeter of the IUNA Musical Comedy Orchestra.
2011. 3rd Trumpeter of the Juan José Castro Conservatory Band.
2012. Trumpeter of the jazz and bossa quintet "Sunny days".
2012. Trumpeter and percussionist of the musical comedy "Barco a Venus".
2013. 1st Trumpeter of the ensemble "El Aventón".
2013- 2015. Percussionist of "Acme Band".
2013- 2015. "Big Ben" percussionist.
2014 -2015. Drummer on TV show "Hacete de Oliva".
2015 – 2017. Diana Amarilla´s percussionist. (TELEFE).
2015- 2019. Percussionist of "La 19", band for events, Dixi Group.
2016 – 2019. PULSONICA´s percussionist.
2018 – 2019. Latin Crush percussionist.
2018 – 2019. Guest percussionist of Miguel De Caro.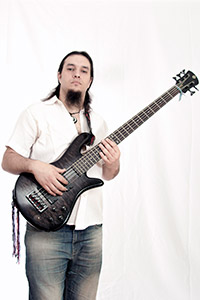 Jonathan Cervatín
Self-taught musician.
In 2006 he began an alternative rock project (INDIAS RAÍCES) in which he remains until today.
Since 2007 is member of the GUILLERMO TRAPANI BAND, with whom he recorded the album "Crónicas Marinas 2" with guest artists such as Litto Nebbia and JM Valentino.
During 2018 made some live performances with EVNA fusion band.
Since 2018 he is member of PULSONICA.
Other musicians who have been members of PULSONICA:
Carolina Cohen (2007/2016) – Julián Cusmano (2011/2017)
Latests photos