Video DVD "Pulsónica from the Studio"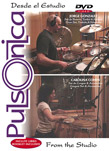 The purpose of this video is to show you some creative works developed through the percussion sets at PULSONICA'S compositions and arrangements. A booklet with the transcriptions of patterns concerning to the passages explained at the video is also included.

Recorded at Sound Rec Studios, Buenos Aires, Argentine Republic.
Drum Set, Timbale & Xylophone: Jorge González.
Congas Set & Accessories: Carolina Cohen.
Guitars & Programming: Marcelo Tubio.
Guest Musicians: Keyboards: Sergio Gutiérrez. Bass Guitar: Patricio Resico. Mix & Mastering: Axel Sierra Bas. Video Edition: Leandro Patronelli. Produced by Jorge González & Leandro Patronelli. Published by Ediciones Ellisound (2011).
Latests photos